When studying compaction, it is important to consider the following when making your field and laboratory measurements:
Select a soil parameter and its method of determination that are the most relevant to your study objectives.
Determine your soil sampling scheme and protocol beforehand. Remember that for Proctor test measurements you need a very large sample (about 25 – 35 kg).
Sieving is very important in both the Proctor and plasticity tests. Use the appropriate sieve size for each test and sieve with care so that sample loss is minimized.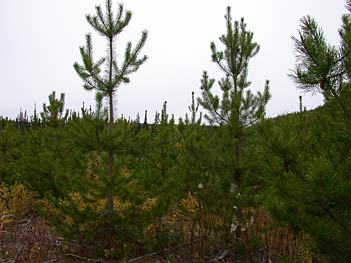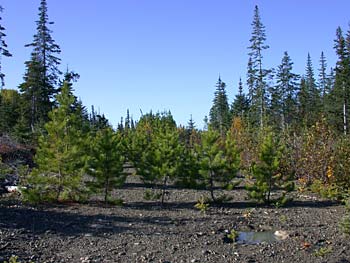 Both photos show eight year old lodgepole pine trees growing on former logging roads in Bear Lake, BC. The road on the left was treated by deep tilling plus mulch, while the road on the right was left untreated. The treatment enabled greater tree growth by reducing the bulk density of the compacted road. Photos by Simon Zhao, UBC, Vancouver, BC.